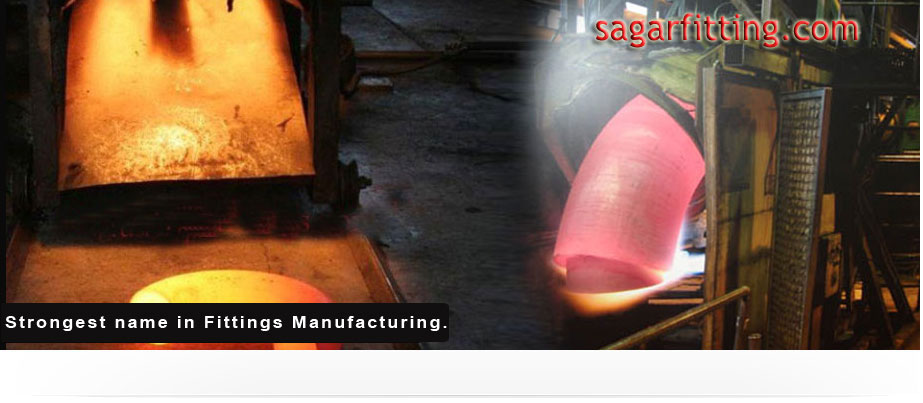 Welcome to the Premier industrial source for Buttweld Fittings
We are widely recognized as a worldwide inventory leader for Buttweld Fittings
You are Here

Home

Products

Buttweld Fittings

Buttweld Pipe Fittings

Sagar Forge & Fittings is one of the leading manufacturer and exporter of the High Grade Buttweld Fittings which use in various industries.Buttweld Fittings are manufactured according to the International standards, namely, the American standard [ANSI/ASTM], the British standard [BS EN] , and the DIN/European standard [EN].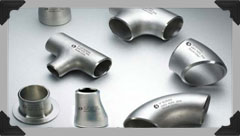 In Sagar forge & Fittings highly strict quality controls are implemented on every step of production to ensure the product quality delivering to the market. Through years of hard work and continuing improvement of quality, we are certified and accredited with the ISO 9001:2008 for our entire quality system
With years of experience in manufacturing Buttweld Fittings we offer high quality, lower cost but the best service. As a result to that our export account today is in various countries like Saudi arabia, Dubai, Turkey, Kuwait, USA , Canada & Oman.We welcome your inquiries for complete projects or just one fitting.
Buttweld Fittings Specification
Fittings Type:


Butt Weld Fittings:
LR & SR Elbows, Tees, Ecc., and Conc., Reducers & Caps
Forged Fittings:
Socket Weld, Threaded fittings, Pipe nipple and Swage nipple and Butt welding outlets



Standards:


ASME B16.9, ASME B16.28, and ASME B16.25
ASME B16.11, and MSS-SP 97



Material and Grades:


Carbon Steel:
ASTM A234 Gr. WPB
ASTM A420 Gr. WPL6
ASTM A105
ASTM A350 Gr. LF2Â 
Stainless Steel:
ASTM A403 WP316/316L
ASTM A403 WP304/304L
ASTM A182 F316L, 304L



Available Sizes:


Butt Weld Fittings:1/2" to 102"
Forged Fittings:1/8" to 4"
Outlets: Up to 36"

Other grades or sizes may be available upon request.
What Makes Us Different
Sagar forge & Fittings was incorporated in 1980 in the field of metal industries as a leading Buttweld Fittings manufacturer. We recognized that the piping industry had two demands from a Buttweld Fittings manufacturer. First, a quality product designed to work efficiently and economically. Secondly, a product delivered when needed. Sagar forge & Fittings built its business on these two simple, yet vital foundations and continues to provide exceptional Buttweld Fittings with unsurpassed service.
Sagar forge & Fittings employees take personal pride in production and delivery efforts and are committed to a high standard of excellence for customer service. These commitments are carried throughout our organization daily from answering the first call to shipping the last product out the door.

Buttweld Fittings Dimensions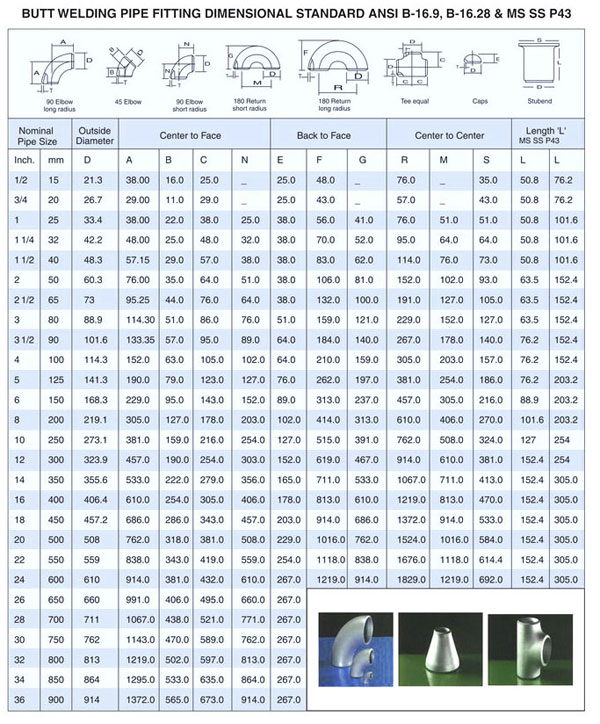 Buttweld Fitting Packing & Shipping
Package details: Each order is packaged according to the customer' s standards including preparation for export such as wooden case, pallet or according to customer's requirement All shipping documentation is provided for seamless delivery from mill to customer.
We export to:
Buttweld Fittings export,manufacture & supply in Saudi arabia, Dubai, Turkey, Kuwait, USA , Canada & Oman
Buttweld Fitting Application Industry
Sagar Forge & Fittings is involved in manufacturing of Buttweld Fittings. These Buttweld Fittings are widely used in various industries such as:

Chemical


Petrochemical


Refineries


Fertilizers


Power Plant


Nuclear Power


Oil & Gas


Paper


Breweries

Related Products
Buttweld Fittings Price
Inventory at Sagar Forge & Fittings
Our Global Network
Do business with us...
Have a question or need more information about Buttweld Fittings, or any of our products or services? Fill out the form below and one of the Sagar Forge & Fittings staff will get back to you as soon as possible.
Quick Contact
Address
23/25, 2ND PATHAN STREET, 55/A GROUD FLOOR,
4TH KUMBHARWADA, MUMBAI- 400004 (INDIA)

Tel
+91-22-6743 7507, 6610 9729

Email
info@sagarfitting.com